stairMAX R2
Description
stairMAX lets you create parametric stairs and escalators from within 3ds Max and 3ds Max Design.  Every single stair parameter can be animated, because stairMAX uses a 100% parametric approach to create 3D stairs in 3ds Max or 3ds Max Design.  With just a few mouseclicks, you can build hundreds of different stairs. Even user defined and customized stair elements stay fully parametric and adjustable.
---
Features
All stairMAX objects are implemented as 100% parametric objects, and they can be accessed via the standard creation methods.  stairMAX offers 5 new parametric stair objects.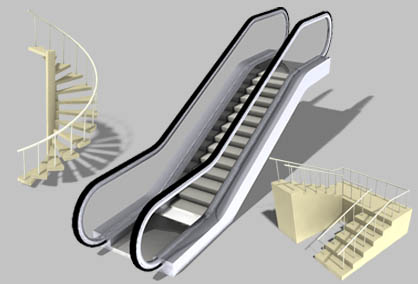 Available stairMAX stair objects
3D stair type Straight Stair 
Stair type Spiral Stair 
3D stair type L-Type Stair 
3D stair type U Type Stair 
3D stair type Escalator 
3ds Max 2008-2013 and 3ds Max Design, 32 and 64 bit compatible plug-in
All stair types support the following common geometric definitions:
Height
Length
Width
Step Height
Step Count
Handrails Left/Right
Side-Pieces
Supporting Beams
Posts
Straight Stairs
Each of the stair objects offers three options to specify the basic construction. Please note that it is possible to create "out of this world" stairs by setting various parameters that might create funny effects.  stairMAX will allow any parameter combination you can imagine.
In addition to Straight Stairs you can also create the following:
Spiral Stairs
L-Type Stairs
U-Type Stairs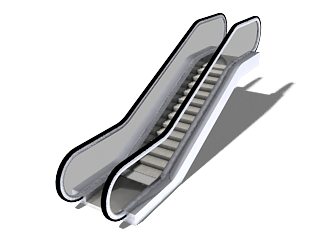 Escalator
It allows you to define real 3D escalators with moving steps and handrails.  There are a lot of parameters you can use to define the escalator.  Creating an escalator animation of moving steps is as easy as creating a sphere!  Best of all, the handrails are animated accordingly, without any complicated user interaction.
Also, the escalator has mapping coordinates using multiple material IDs for easy maping.
Accurate Modeling
stairMAX allows you to accuratly control the resolution and Upper/Lower Landing of a stair / escalator object.
User Defined X-Section
This option allows the artist to define an individual post design by drawing 2D splines.  This feature works similarly to the Lathe modifier of 3ds Max, but it is much more sophisticated.  
stairMAX handles every aspect of the post definition automatically.  Placement, scaling and alignment is calculated based on the stair definition.  Increasing the length of the stair, for example, will create more posts automatically.
Intelligent scaling
There is no restriction what the spline should look like.  stairMAX will accept any legal shape object from 3ds Max and will scale this object to fit the stairs perfectly.
Flexibility
it's parametric and that means that everything can be changed at any time, also everything can be animated. This shell be an example of the lots and lots of interesting possibilities of StairMAX.
Specifications & Licensing
System Requirements
Operating System
Host Applications
3ds Max 2013, 2011, 2010 and 2009
3ds Max Design 2013, 2011, 2010 and 2009
---
Licensing
All CEBAS product licenses are floating licenses.  CEBAS product downloads include floating license manager. 
If running on a single workstation, you can install the license manager on it alongside the main application.
The installer that is downloaded includes installation options for license manager, Plug-in and render node.
For network licenses you must install the license manager on your license server first then activate your key on the license server.  After that you can install the Plug-in on your 3ds Max workstation, launch 3ds Max and access the plug-in from within. When you first attempt to use the Plug-in you will be prompted to activate or give a license server host name. Once you enter your license server info you will be able to use the plugin.
Additional Info
Upgrades / Support
Upgrades
No upgrades available at this time
Support
RFX is available for all your support needs.
CEBAS offers email support and online Wiki support page